General Rules
"Radiant" refers to the family of Radiant based level editing tools.
"GtkRadiant" refers to the main branch of the Radiant family of level editing tools.
Take note of the casing used with GtkRadiant. It should not appear as "GTKRadiant".
In all logos the word "Radiant" is displayed, but the editor is generally referred to as "GtkRadiant".
"GtkRadiant" should never be abbreviated as "Gtk" or "GTK". This can lead to confusion with the GIMP Toolkit (GTK) project which GtkRadiant makes use of.
When scaling the logo and text, ensure that you maintain a consistant stroke around all elements.
Maintain a healthy level of white space between the logo and other elements. The logo should not overlap or be covered by other elements.
Logos
Our standard v3.0 GtkRadiant logo. Aside from a few exceptions, this is the default logo that should be used. It features a better defined shape, and sharp edges and corners on the text. The type face is scaled at 256pt for the main text, 64pt for the subtext, all with a 10pt stroke.
This is an alternative v3.0 GtkRadiant logo. Use this when a vertical or square layout is absolutely required. When in doubt, use the main logo. In this version, the icon has been scaled 150% but maintains the same 10pt stroke to the 256pt main type face.
The GtkRadiant icon. It represents a radiant sun. This is typically used as the program executable icon and for specialized graphics and backgrounds. It is not recommended for use as a stand-alone logo.
Typography
Smart Sans Bold - Monotype Imaging
This is the type face used for the "Radiant" logo. Main text size is 256pt, subtext is 64pt. A 10pt pure black stroke is applied around all text and logo. The entire text and stroke is then scaled as needed to maintain the same relative weight between objects and stroke.
Verdana - Microsoft Corporation/Monotype Imaging
Used for titles and headers for the GtkRadiant site.
Open Sans - Google Inc./Ascender Corporation
The standard type face used for the GtkRadiant site.
GtkRadiant Website Colour Swatches
Pure Black
Stoke edges, major grid
HEX: #000000
RGB: 0,0,0
HSB: 0,4,5
Header Gray
Gray text colour for headers
HEX: #333333
RGB: 51,51,51
HSB: 0,0,20
Gray Text
Standard gray text colour
HEX: #444444
RGB: 68,68,68
HSB: 0,0,27
Radiant Grid Dark Blue
Grid background
HEX: #0E132A
RGB: 14,19,42
HSB: 229,67,16
Radiant Grid Light Blue
Grid lines
HEX: #151C3E
RGB: 21,28,62
HSB: 230,66,24
Radiant Background Blue
Link box background
HEX: #29387B
RGB: 41,56,123
HSB: 229,67,48
Radiant Background Glow
Link box hover, text links on light backgrounds
HEX: #334499
RGB: 51,68,153
HSB: 230,67,60
Link Text
Text links on dark backgrounds
HEX: #7788DD
RGB: 119,136,221
HSB: 230,46,87
Radiant Logo Text
Radiant logo, text on dark backgrounds
HEX: #E1E3EC
RGB: 225,227,236
HSB: 229,5,93
Pure White
Page background
HEX: #FFFFFF
RGB: 255,255,255
HSB: 0,0,100
Legacy References
The GtkRadiant logos, icons and website has had a lot of changes in its long history. This section just highlights some of the evolutions in its design.

The old Q3Radiant program icon, highly pixelated with a Quake 3 Arena logo. It might look a little better if you squint your eyes.

The QeRadiant logo from the Q3Radiant.com website in 1999. This is probably the first appearance of the Radiant Sun logo, although very different.

This was the page banner from the website, redesigned in 2002. The v1 logo was a small image that did not scale well. The points on the sun logo were sharply angled. The familiar blue, white and black colour scheme was established. The current website tries to stay true to this original theme, keeping the radiating lines, circles, and a grid with vectors drawn.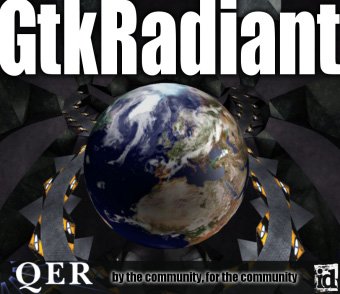 The GtkRadiant splash screen featuring SPoG's Q3 map, "Lonely Planet". This image greeted level designers everytime they felt like being a little creative.

An attempt at a logo redesign for GtkRadiant. It didn't see much use.
This is the redesigned v2 logo. It was designed to be an approximation of the v1 logo, but with better text placement, rounded points, and as a vector image so that it could be infinitely scaled.
Finally, this is our current v3 logo. It differs from the v2 logo in that the stroke around the text now has sharper corners for a more solid outline.